PulseKraft 2.2
Enabling 12+ PWM Channels, Enhanced Telemetry & Missions

for DJI Matrice 100, Matrice 600, A3 + LB2, N3 + LB2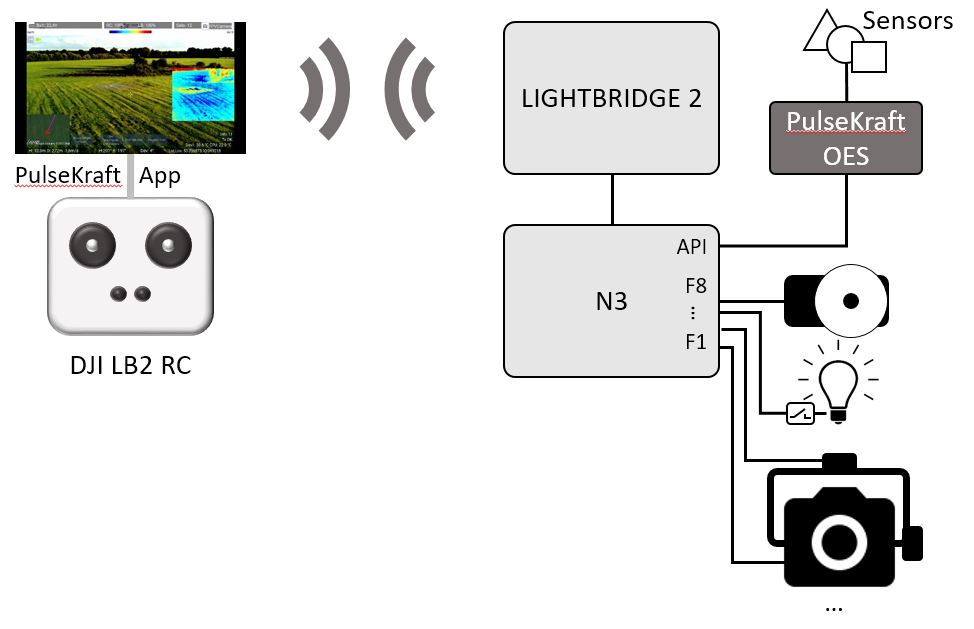 ---
IMPORTANT UPDATE:
PulseKraft 2.x supports the more stable, hardware timed PWM signal output on the F1 - F8 PWM ports of the A3 and N3 flight controllers as well as hardware PWM on an add-on device (e.g. for Matrice 100, that has no seperate PWM ports at all). Onboard software v3.3 requires at least firmware 1.7.1.5  on your A3 / N3 flight controller and will currently not connect with Matrice 100. A version supporting previous firmware release 1.7.0.0 and Matrice 100 is provided as seperate download.

The PulseKraft ground app currently does not contain the new activation / authorization mechanism that may be enforced by latest DJI flight controllers as of July 2017. In these cases you can still use the PulseKraft app after the aircraft was activated with latest DJI GO app before take-off. An app version supporting the new activation mechanism will be available soon.

---
Enabling Control to additional Onboard Devices on DJI Platforms + Enhanced Mission Planning & Control
At the time of this writing, neither the DJI Matrice platforms (M100, M200 series, M600) nor the A3 / N3 flight controllers in combination with Lightbridge 2 provide out-of-the-box options to map PWM output signals of F1 … F8 ports to the wheels, buttons an switches of the DJI remote controller (except landing gear switch and shutter button).

The PulseKRAFT solution provides
up to 8 PWM channels on the A3/ N3 F-ports and more than 12 additional PWM channels mapped to wheels, buttons ans sticks of the DJI Lightbridge 2 remote controller with an add-on (supports also M100 and sonn M200 series)

extended telemetry, backward data channel for additional sensor data

enhanced mission features for prearranged waypoint missions like equally spaced pulse triggers (e.g. for camera shutter or agriculture applications) and a Google Maps based mission editor running in almost any web browser.

With an add-on, you will get further PWM outputs, a universal serial (UART) data interface for enhanced integration scenarios like LiDAR based distance control and altimeter. SBus + MAVlink output will follow soon. It only requires DJI devices supporting the Mobile SDK and Onboard SDK (through the API port on the flight controller). S-Bus and Mavlink may be supported in a later release.

Application example (some parts are not part of the PulseKRAFT solution):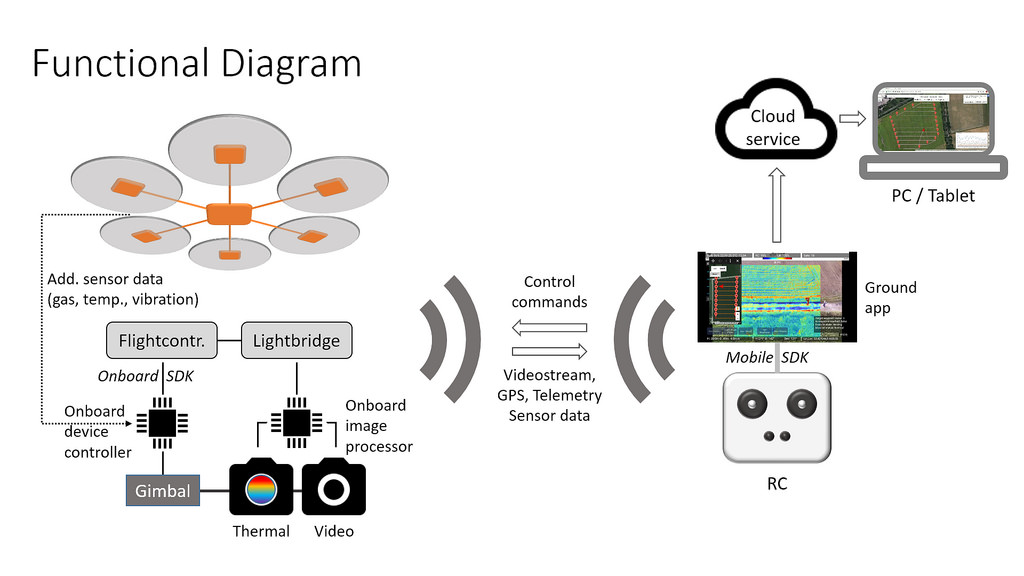 It is possible to grab data directly from additional onboard sensors (e.g. temperature) trough 1-wire protocol as well as from any other device supporting USB-to-serial communication (e.g. an FTDI or CP210x based USB->UART adapter or an Arduino, Teensy etc.) and send them through the transparent data transmission to the app running on ground.
Position, status and sensor data received from drone are logged to local files on the tablet and can be optionally transmitted to a cloud service where it can be followed real-time in any browser.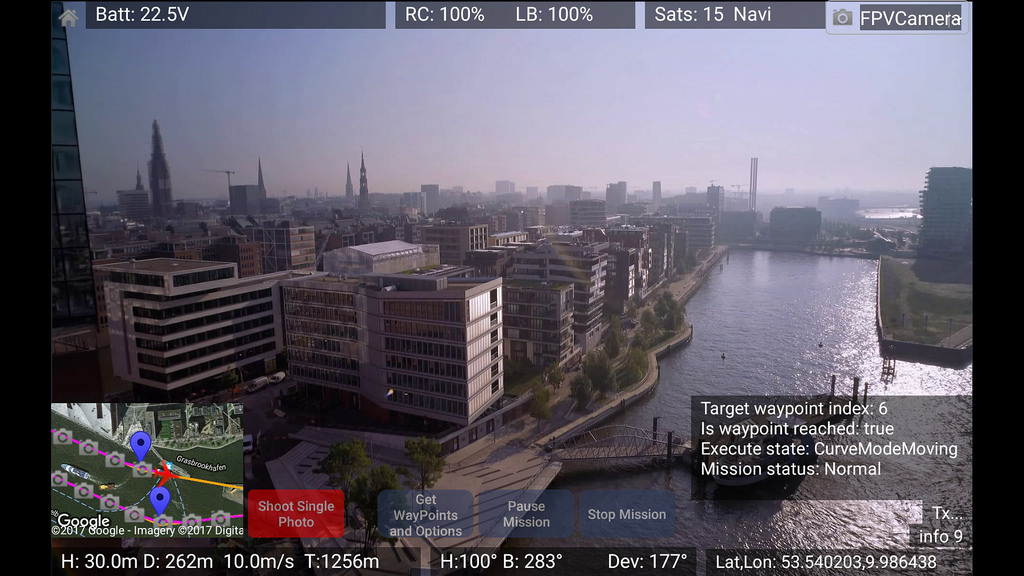 The app allows to support configurations with 3rd party cameras and gimbals through PWM channels, it currently does not provide support for camera / gimbal functions of the DJI X3 / X4 / X5 / XT camera series like ISO or focus setting.
Some videos demonstrating the PulseKRAFT features:
Additional App Features
The PulseKRAFT app displays some telemetry, you may already know from other apps and it provides some additional status and telemetry information as well as a map and mission control features.
UI Elements and Enhanced Telemetry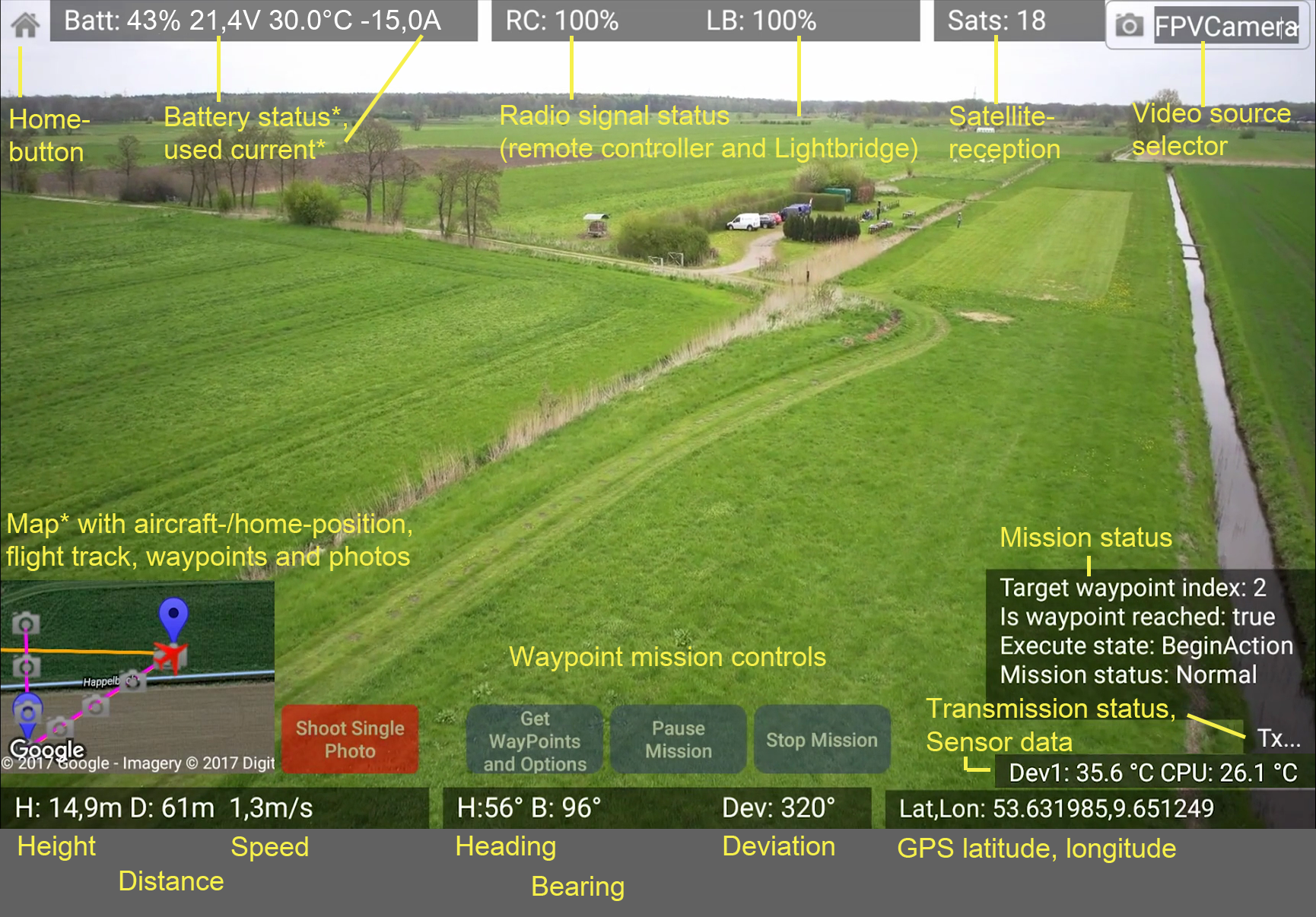 * Enhanced battery status and used current information is only available with DJI intelligent batteries.
Heading means the "compass" direction of the drone itself. 0° (= 360°) is north.
Bearing means the direction of the visual line of sight from pilot to drone (the "compass" direction you look, when you watch the drone).
Deviation means the difference between heading and bearing. If deviation is 0° this means, the drone is flying straight away from the pilot. A deviation of 180° means, the drone is flying straight towards the pilot (e.g. at a "GoHome").
Lat,Lon are latitude and longitude of the drone's current GPS coordinates (only available when the GPS antenna receives enough satellites)
Flexible Mission Control
In order to upload a prearranged waypoint mission, the mission ca be prepared in the mission editor. If the mission is planned on the tablet, you can directly take it over into the app via the clipboard. If the mission was planned elsewhere, you can for example send the mission data by E-mail to the tablet and copy it from the E-mail.
If the ground app has a connection to the internet (e.g. through 3G, 4G or by Bluetooth tethering to a smartphone), it can transmit the mission status and sensor data almost in real-time to a cloud service (with a delay of about 2 seconds). Through this web service it is possible to follow or analyze the mission in another web application.
Online Waypoint Mission Editor

The waypoint mission editor is a pure web application based on Google Maps API that can be used on any HTML5 / JavaScript / CSS3 compatible browser (tested on Windows PC/Mac/Linux PC, IOS & Android tablets & smartphones).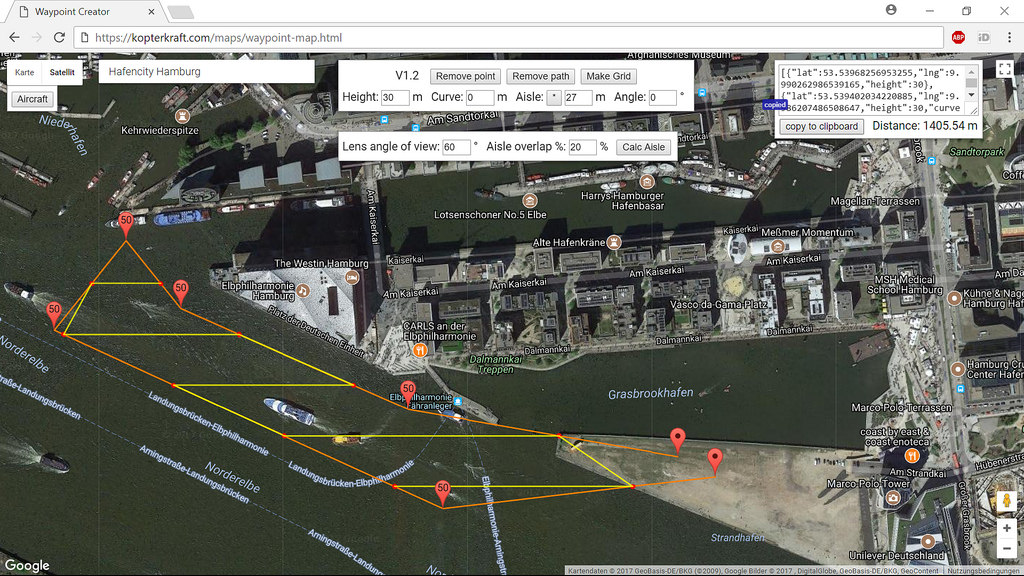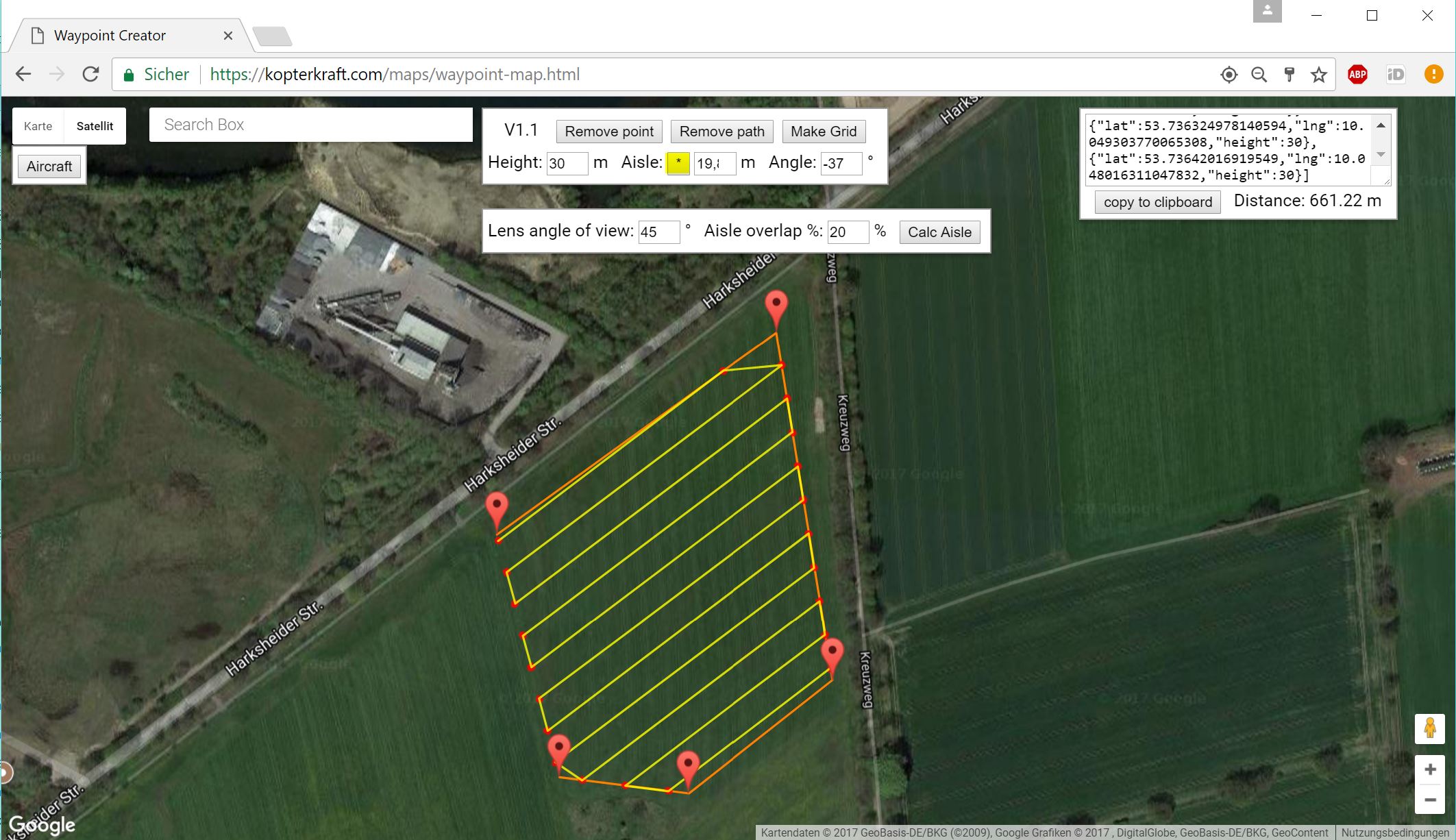 The map is automatically centered to your current location. Alternatively the powerful Google location search functionality can be used with the "Search Box" or – if the aircraft already received a valid GPS location – the map can be centered to the current aircraft location by clicking on the "Aircraft" button.
On the map you can set waypoint markers for a polyline that the drone should follow. For each point an individual height can be set. On demand, this polygon can also be converted to a grid of parallel "zigzag" flight routes with adjustable distance in order to get slightly overlapping aisles (depending on the field of view of your optical system and the minimum flight height).
This mission definition can be copied to clipboard e.g. to store it for later usage or to send it by mail to another client device. If that editor is already used on the same device where the ground app is executed, the mission data can be directly pasted into the waypoint mission uploader of the app and can be started immediately.
Additional Sensor Data
Direct sensor integration
You can connect some digital thermometer sensors (type DS18B20) through "one-wire protocol" directly to the onboard device. Their temperature data can be sent to ground through transparent data transmission for live monitoring e.g. the ESC temperatures as well for extended monitoring.
Further sensors and remote controllable devices
When you want to add further sensors to your drone (e.g. analog/digital distance sensors, LiDAR, vibration, air pollution etc.) or if you want to control additional devices, you can connect them through a USB -> serial connection. This can be either a simple FTDI USB to serial converter or e.g. an Arduino or Teensy (which have an integrated FTDI type converter).
Avialability
You can test the PulseKraft software within a trial period of 30 days for free.
Downloads (including a manual with a detailed description) are available here: http://www.kopterkraft.com/index.php/downloads

In order to request a 30-day trial account for the Online Mission Control & Waypoint Editor please use this request form:
For a perpetual activation of the PulseKraft Software and for a yearly subscription to the , you can purchase a license key here:

| | | |
| --- | --- | --- |
| Item | Price |   |
| PulseKraft Software License - Limited Time Offer! (Android App and Onboard Software, including VAT for EU residents) | 99 EUR | |
| 1-Year Subscription for PulseKraft Mission Control (Waypoint Creator, Mission Status, including VAT for EU residents) | 12 EUR | |
|   |   | |